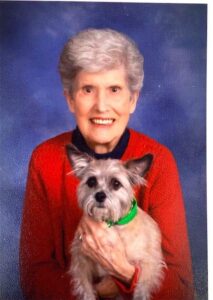 Louise Smock, 97, of Lincoln, passed away November 5, 2021 at Memorial Medical Center.
Visitation will be from 10 AM until 11 AM Wednesday, November 10, 2021 at First United Methodist Church in Lincoln. Funeral services will be at 11 AM also at the church with Pastor Brad Curtis officiating. Burial will follow in Harmony Cemetery, Beason, IL. Holland Barry & Bennett Funeral Home is assisting the family.
Ellen Louise Smock was born November 16, 1923 in Christian County, IL. near Taylorville, the daughter of the Rev. E.B. Beaty and Anna Marie (Chesterman) Beaty. She married William Wesley Smock on October 21, 1951 in Centralia, IL. He preceded her in death May 17, 1989. Mrs. Smock was a long time teacher in Logan County. She taught math at Chester East Lincoln and retired from Lincoln Junior High School where she was an English teacher. Louise enjoyed being outdoors working in her yard and on her home. She was always extremely active. She was a long time member of Lincoln First United Methodist Church where she was active in many ways. Louise also enjoyed reading. Her family was the light of her life. She loved her grandchildren and was always involved in all of their activities. Her dog Chip was her faithful companion. She loved spending time with him and taking him on walks.
Survivors include her children John (Laura) Smock, Jan Malerich, Lou (Kirby) Aue; grandchildren: Megan Malerich, Sarah Smock, Max Pozsgai, Mindy Malerich, and Katie Friedrich; great grandchildren Eugene Joseph Friedrich and Elizabeth Ellen Friedrich; sister Evelyn Gregory; and several nieces, nephews, cousins, and friends.
She was preceded in death by her parents, her husband, and her brother Paul Beaty.
Memorial donations may be made to the Humane Society of Logan County or to District 27.