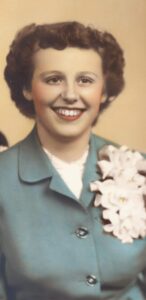 Luella Ann Shirley, 87, of Lincoln, passed away April 4, 2021 at home surrounded by her loving family.
Private family services will be held at Holland Barry & Bennett Funeral Home.
Luella was born January 28, 1934 in Emden, IL., the daughter of Leo Klauss Mammen and Jewel Leah (Whittaker) Mammen. She married Dean Shirley February 17, 1950. They shared 71 loving years of marriage.
Luella was a farm wife and a receptionist. She was a member of Lincoln Christian Church. She enjoyed gardening, bird watching, and nature. She also enjoyed travel, decorating, antiques, and shopping. Luella loved spending time with her family.
Her legacy will be carried on by her family: husband Dean Shirley; children: Kathy A. (Michael) Andrews, Mona S. Schleder, Leon D. (Deb) Shirley, and David L. Shirley; grandchildren: Aaron, Anthony, Kimberly, Ryan, Christopher, Nathan, Sandra, Leah, Evan, and Brandy; great grandchildren: Nolan, Isaac, Clara, Lily, Abby, Zak, Paityn, Kaiya, and Talan.
She was preceded in death by her parents, son Lowell Shirley, and grandson Ryan Schleder.
Memorial donations may be made to Lincoln Christian Church and will be accepted at the funeral home.