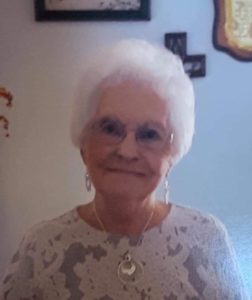 Marian Marie Daniels, 89, of Lincoln, passed away on February 25, 2019 at her home surrounded by her loving family.
Visitation will be from 4-7 PM Thursday, February 28, 2019 at Holland Barry & Bennett Funeral Home. Funeral services will be at 11 AM Friday, March 1, 2019 also at the funeral home with visitation one hour prior. Burial will follow in New Union Cemetery.
Marian was born April 14, 1929 in Atlanta, IL., to Jess and Nona (Shelton) Sampson. She married Roy L. Daniels on February 28, 1964. He preceded her in death on June 3, 1994.
She worked at Stetson China Company, and Lincoln Developmental Center, retiring after 25 years. She loved spending time with her family and friends, traveling: visited all 50 states, Hawaii twice, two Caribbean cruises, one Alaskan cruise, visited Europe twice, and traveled to Nova Scotia. She looked forward to her yearly trip to Arizona to visit family. She enjoyed reading, dancing, country music, and country bands. Marian loved life and lived it to the fullest.
Surviving are her children: Vicki Cummings Norris, Steve (Lou) Henson, and Melodie "Dee" Daniels; grandchildren: Steve Cummings (Amy), Rob Cummings (Marisa), Tammy Zapata (Emilio), and Rebecca Roemer; great grandchildren: Andy and Cole Cummings, Nick and Heather Cummings, Kayla Cummings and Ty Chambers, Joseph and Nicole Cummings, Zach and Haley Farris, Anthony Cummings (Thalia Preciado), and Isaiah Zapata; great-great grandchildren: Dominick Cummings, Gabe Cummings, Selene Cummings, Bella Cummings, Zena Cummings, Ryker Chambers, and River Marie Chambers due in May; grand puppies Scooter and Sammie and grand kitty Miss Kitty; brothers: Jack Sampson (Polly) and Larry Sampson; brothers and sisters in law: Gene Daniels (Bev), Jim Daniels (Sharon), Meredith Daniels, and Goldie Stanton (Harold); friends that are family: Pat Beck and Linda Birk; and many others that called her Mom, Mama, Grandma, Aunt, and Friend.
She was preceded in death by her husband, parents, brother Dick Sampson, son in law Jerry Norris, sister in law Mary Sampson, and her beloved fur baby Midnight.
In lieu of flowers, memorials may be made to Safe Haven Hospice or to the Humane Society of Logan County.