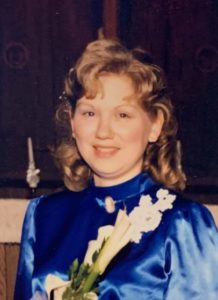 Vickie Hum, 60, of Lincoln, passed away February 17, 2019 at St. John's Hospital surrounded by family.
Cremation rites have been accorded by Holland Barry & Bennett Funeral Home.
Vickie was born June 18, 1958 in Lincoln, the daughter of Adolph and Elinor (Sandy) Hum (Davis). She married Douglas L. Fink on August 13, 1994. Vickie was preceded in death by her parents.
Survivors include her husband, Douglas of Lincoln, sisters Diana (Phil) Pickett of Elkhart, and Tina (John) Hebenstreit of Lincoln, also many nieces, nephews, cousins, and friends.
Vickie graduated from Mt. Pulaski High School and Blackburn College with her degree in music. She worked for several years as a music teacher at Beason Grade School and then at her Alma Mater, Mt. Pulaski. She then worked for the State of Illinois as an Office Coordinator with the Department of Financial and Professional Regulation.
Per Vickie's wishes, she was an organ and tissue donor through Gift of Hope. Her donation will benefit more than 20 people.
Vickie really enjoyed time with her family, especially her nieces and nephews. She was active for many years with Lincoln Community Theatre, she was also Co-Manager with Doug of the Farmer's Market in Lincoln. She was a member of the First United Methodist Church in Lincoln where she chaired the annual Cookie Walk and was the Costume Director and Music Director of the Madrigal Dinner. She participated in both the Heritage Ringers Bell Choir and Contemporary Choir. Vickie will be greatly missed.
A time of visitation will be held from 4-7 PM on March 16, 2019 at the First United Methodist Church, Lincoln.
In lieu of flowers, memorial donations may be made to the American Diabetes Association, the Kidney Foundation, First United Methodist Church, or the Alan G. Birtch, MD Center for Transplant Services at Memorial Medical Center.