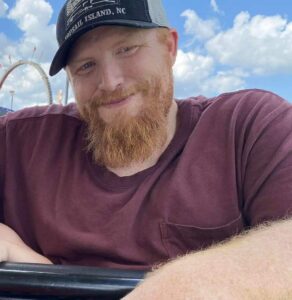 Mark Anthony Helton, 42, of Lincoln, passed away March 12, 2023, at Memorial Medical Center.
Visitation for family and friends will be Saturday, March 18, 2023, from 1-3 PM at Holland Barry & Bennett Funeral Home. Funeral services will follow at 3 PM.
Mark was born January 17, 1981, in Lincoln, IL., the son of Timothy Helton and Patricia Richardson. He loved going on trips, fishing, eating good food, gambling machines, and his cat MO. He loved people and loved his son very much. He had just purchased a Harley to restore, and it was his dream to finish it and ride it.
Survivors include his father Timothy Helton, his mother Patty Richardson Meredith, maternal grandmother Patricia Mann, maternal step grandpa Mark Mann, son Jared Helton, his love Michelle Estes, sister Megan Richardson Harris, brothers Blake Helton and Adam Helton, sister Tabatha Blair, Aunts Shelley Hanson, Bonnie Smith, Lois Renfro, Gaila Michaels, and Marsha Lowe; uncles Tommy Richardson, Wendell Helton, and Randy Helton; cousins Jeremiah Hanson, Amber Jones, Tyler Richardson, and Nate Richardson. Several nieces and nephews also survive.
He was preceded in death by his paternal grandparents Archie and Louise Helton; maternal great grandparents Willis and Ruth Cremeens, maternal grandfather Thomas Richardson, Aunt Tina Burrell, Uncle Carl Benedict, and cousin Nick Richardson.