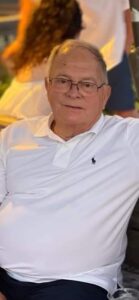 Melvin Ronald Kiehna,79, affectionately known as Ron, Of Herrin, died July 7, 2022 at his home surrounded by his family after a brief battle with cancer
A memorial service will be held Monday, July 11, 2022 at 11 AM at Herrin First Baptist Church where Ron and Cheryl are members.
Ron was born September 28, 1942, in Sparta, IL., the son of Melvin Lawrence and Nathalie Rose ( DeRocher) Kiehna.
He married Cheryl Ann ( Davis) March 28, 1986 in Percy, IL. Ron graduated from Trico High School and SIU Carbondale. He was employed at Peabody Coal Company for 33 years, General Dynamics for 8 years and retired from Joy Global/ Komatsu Mining Company in 2020.
Ron was an avid SIU, Kansas City Chiefs, and Herrin Tigers fan. He also loved watching his great nephews Griffin and Grant play sports. He loved many dogs in his lifetime, the last being his beloved Golden Lab Bella.
Survivors include his wife Cheryl Kiehna of Herrin; daughters Angie (Richard) Gadwood of Little Elm, TX and Mia ( Mark) Fandel of Monticello, IL. and Julie ( Dan) Nettemeyer; grandchildren: Morgan Harden and fiancé Alex White of Durham, NC, Brayden
( Moriah) Harden of Great Lakes, IL., Savanah Gadwood of Little Elm, TX., Nolan Fandel and Alayna Fandel of Monticello, IL. Nicole ( Kellen) Kettwich, and Ryan Nettemeyer; great granddaughter Ellison Mae Harden of Great Lakes, IL.; twin great granddaughters Emma and Ainsley Kettwich brothers Marc
( Sue) Kiehna and Dennis (Joy) Kiehna all of Steelville, IL.; sister and brother in law Tina (Jim) Simpson of Herrin; and nieces, nephews, and extended family.
He was preceded in death by his parents and son Jamie Stratton.
Memorial donations may be made to Hospice of Southern Illinois or Crittergal Rescue in Carterville, IL.
Holland Barry & Bennett Funeral Home, owned by his niece, is assisting the family with arrangements.