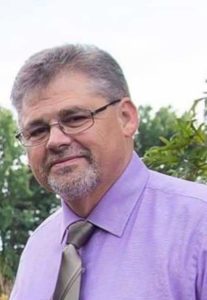 Michael Earl "Mike" Mattson, 66, of Lincoln, passed away November 10, 2019 at his home surrounded by his loving family.
Cremation rites have been accorded by Holland Barry & Bennett Funeral Home. Memorial services will be held Tuesday, November 19, 2019 at 11 AM at Faith Lutheran Church, Lincoln. There will be no burial at this time.
Mike was born June 15, 1953 in Cairo, IL., the son of Earl Mattson and Beverly (Hayden) Mattson. He married Cynthia Ritchhart on October 9, 1999.
He retired from Lincoln Correctional Center and then worked part time at Napa for 10 years. He was a member of Faith Lutheran Church. Mike was an avid Nascar fan,like trains, was a Karate Black Belt under Dan Dugan, enjoyed working in the yard, and spending time with his children and grandchildren. He loved his wife dearly and took very good care of her.
Surviving are his wife Cynthia, daughter Angie (Randy) Damm, granddaughters Cortnee (Dakota) Worthington and Sofee Jo Damm; great grandsons Blaine and Brenton Worthington; siblings: Gary (Marilyn) Mattson, Kathy Houser, Lynda Mattson, Carolyn Wallace, Robert (Pam) Mattson, Jamie Mattson, and Lisa ( Rick) Mullenix; brother in law Alan (Janice) Lolling; sister in law Teri Helton; and several nieces, nephews, cousins, and friends also survive.
He was preceded in death by his parents.
Memorial donations may be made to Zion Lutheran School or to Faith Lutheran Church.
The family wishes to thank Dr. Dennis Carroll and Dr. Narla for their care; thank you to ALMH staff in Med/Surg, Dietary, and Rehab for their care and concern of both Mike and Cindy during their extended stay; thank you to Dolan Dalpoas, Valerie Cooper, and Karen Carter for assisting with transport details to get Mike home from St. Louis; thank you to Dan Dugan, Nicole Dugan, Pat Benson, and Linda Rivera for their friendship and assistance during this difficult time and a special thank you to Angie and Randy Damm for their never ending help, support, and love.