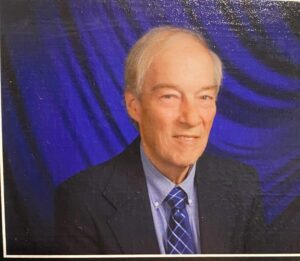 Michael Vance Vernon, 80, of Lincoln, passed away April 11, 2021 at The Christian Village with his loving wife by his side.
Visitation will be from 5-7 PM Thursday, April 15, 2021 at Holland Barry & Bennett Funeral Home. Funeral services will be at 10 AM Friday, April 16, 2021 at Lincoln Christian Church. Burial will follow in New Union Cemetery, Lincoln.
Due to Covid-19, proper social distancing and face coverings will be required.
Mike was born January 24, 1941 in Salem, OR., the son of Glen and Vivian (Lanktree) Vernon. He married Lana Sue Scott on November 21, 1962.
He graduated from high school in OR and then attended the University of Oregon. He was an avid Oregon Ducks fan. Mike's father was a minister and the family moved several times. Mike lived in OR, CA, WA, and IL. He was the assistant manager of the King's Table Restaurant in OR and then was transferred to the King's Table Restaurant in Dallas, TX. The family settled in Ashland, IL., where he met the love of his life. The couple eventually settled in Lincoln, IL., where Mike was the owner/operator of Advanced Carpet Cleaning and Hardball Chemical Company. He was a member of Lincoln Christian Church where he sang in the church choir. Mike enjoyed singing, playing the piano, reading, yard work, he loved to travel and visited all of the western states. He adored his grandchildren.
Survivors include his wife Lana Vernon; daughter Stephanie D. Werth; grandchildren: Brittany, Michaelene, and Christian Werth; sister Dee Elliott and brother Daniel Vernon; and nieces, nephews, cousins, and friends.
He was preceded in death by his parents.
Memorial donations may be made to Lincoln Christian Church and will be accepted at the funeral home.