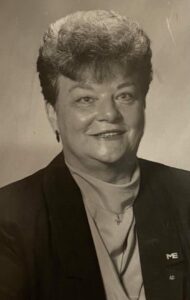 Carolyn Jean McMath, 89, of Lincoln, passed away peacefully at home with her family by her side at 10:25 PM Tuesday, April 6, 2021.
Private family services will be held at Holland Barry & Bennett Funeral Home.
Carolyn was born June 5, 1931 in Emden, IL., the daughter of Harm T. Fink and Alice (Mammen) Fink. She married Kenneth W. McMath on December 9, 1951. He preceded her in death in 1992.
Carolyn was a farm wife for many years. She then entered into real estate and purchased ME Realty in 1991. She retired in 2012. She was a member of the First United Methodist Church in Lincoln and was active with the Logan County Board of Realtors. She enjoyed travel and dining with her family and life long friends. Her grandchildren were the light of her life.
Survivors include her daughters: Colleen Riesselman (Ted Mills), Cathy Dufour (Blair), and Connie White (Tim); Greg Riesselman, the son she never had; grandchildren: Kelly Riesselman (Chuck Wilkinson), Ryan Dufour (Lauren), Caitlyn Dufour, Connor White, Emy White, and Elly White; great grandchildren Jaden Dufour and Zoey Wilkinson; her sister Loretta Hellman; and several nieces, nephews, cousins, and friends.
She was preceded in death by her parents, husband, and twin sister Marolyn Wrage.
Memorial donations may be made to the First United Methodist Church Food Pantry or to the organization of the donor's choice.