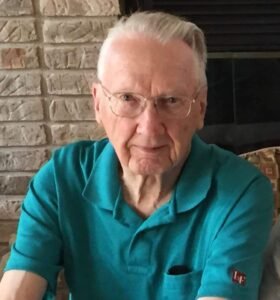 Monty Norman Elliot, 92, of Lincoln, IL passed away peacefully on November 1, 2023 surrounded by loved ones.
He was born to the late Guy and Lenore Elliott, October 12, 1931 in Macomb, IL, and grew up in the nearby small town of Bardolph. After high school he joined the Air Force and was stationed at Carswell Air Force Base, Ft Worth, TX. During that time he met his future wife, Emma, at a YMCA dance in Dallas and they were married April 11, 1953. A few years after their marriage they relocated to Bushnell, IL so Monty could join his father in the painting and decorating business. In 1970, he and his family moved to Lincoln, IL where Monty took a position at Lehn & Fink until his retirement in 1994.
Monty is survived by his four daughters: Joyce (Matt) Madigan of Charleston, IL; Mary Jane (Rick) Sheley of Lincoln, IL; Carolyn (Bill) Brooks of Clark, MO; and Laura Elliott of Lincoln, IL. He is survived by four grandchildren: Amanda (Nathan) Steffen of Champaign, IL; Betsy (Chris) Meyer of Bloomington, IL; Christopher (Andrea) Sheley of Lincoln, IL; and Ryan Brooks of Wellington, CO; and nine great-grandchildren. Monty was preceded in death by his parents, his brother, James Elliott, and his wife, Emma.
Monty loved his family dearly and all the gatherings with his children. His last year was spent at Timber Creek Village Assisted Living in Lincoln, IL. Although he greatly missed his home, his humor and kindness were enjoyed by those who tended to his needs. He and his family greatly appreciated the kind and loving care provided by the staff of both, Timber Creek and Gentiva Hospice.
Funeral services will be held on Saturday, November 11, 2023 at Holy Family Catholic Church in Lincoln, IL. Visitation will be at 9:00 a.m. followed by a Mass at 10:00 a.m. with Rev. Joseph Dondanville. The burial service will follow at St. Mary's Catholic Cemetery in Lincoln, IL. In lieu of flowers, gifts may be made to Holy Family Catholic Church or Carroll Catholic School, mailed in care of Holland Barry & Bennett, 620 Pulaski St, Lincoln, IL 62656.