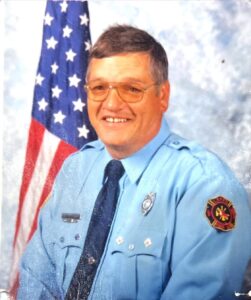 Roger Dale Sutton, 73, of Lincoln, passed away October 24, 2023 at Memorial Medical Center, Springfield.
Cremation rites have been accorded by Holland Barry & Bennett Funeral Home.
Visitation will be from 5-7 PM Monday, November 6, 2023 at Holland Barry & Bennett Funeral Home with Memorial Services following at 7 PM.
Burial will be at a later date in Richmond Grove Cemetery.
Roger was born August 6, 1950, the son of George Henry Sutton and Minnie J.C. (Buse) Sutton. He married Nancy Hickey on July 28, 1980. Roger proudly served his country in the United States Army during Vietnam. He was stationed at Fort Campbell, Kentucky. Roger lived a life of service. Just a few days after returning from the Army, he went to work for the Lincoln Rural Fire Department, serving 32 1/2 years. He retired in 2004. He was an avid St. Louis Cardinals fan and followed Lincoln Railer Basketball. He enjoyed fishing and spending time with his family. He was the youngest of 15 children. Roger loved his grand dogs: Rocky, Smokey, Sadie, Chelsey, Sassy, Angel, and Remi.
Survivors include his wife Nancy Sutton, daughters Crystal Sutton and Elizabeth Sutton Cassidy (Jason) granddaughter Carrie Doolin; sister Linda Shawgo, brother David Sutton (Marylyn); brothers and sisters in law: Joan Long Sutton, Dean Joyce, Virginia Chere, Rebecca Osborne, Sandy Meador (Robert), Joseph Hickey (Kay), James Hickey (Ann), and Truett Minor. Many nieces, nephews, cousins, and friends also survive.
He was preceded in death by his parents and his siblings: George Sutton, Doris Allen, Donna Belle Sutton, Phyllis Reynolds, Norma Landers, Kenneth Sutton, Ruth Ann Joyce, Marlene Sutton, Ronald Sutton, Robert Sutton, Cheryl Daniels, and Thomas Sutton.