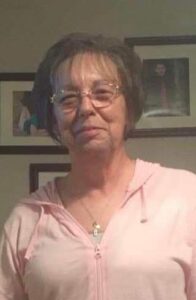 Nena Gae Wilcoxson, 70, of Atlanta, passed away September 11, 2023 at Arcadia Care, Bloomington, IL.
Cremation rites have been accorded by Holland Barry & Bennett Funeral Home. A celebration of life will be held at a later date. Burial in Mason City, IL. with her husband will also be held at a later date.
Nena was born September 9, 1953, the daughter of H.C. Worthy Jr. and Barbara (King). She married Donnie Wilcoxson in 1980. He preceded her in death on February 24, 2013. Nena was a dedicated 45 year employee at Eaton. She was devoted to her children and her grandchildren. She enjoyed crocheting and reading and was an avid Chicago Cubs fan.
Survivors include her children: Gena Richmond and wife Christy Turley, Alan Wilcoxson and wife Dawn, Tina Scherler and husband Ty, and Tamara Wilcoxson; grandchildren: Shane (Katrina), Jordan (David), Kori (Cody), Cody (Chelsea), Logan, Carissa, Gracie, Lucas, Wesley, Jo, Mitchell, Trey, Olivia, Seth, and Aleaya; 9 great grandchildren; brother Mike Worthy, twin sister Dena Daugherty and husband Jerry, brother Donny Worthy, and sister Sue Beavers and husband Bill.
She was preceded in death by her parents and her husband.
Memorial donations may be made to the Alzheimer's Association.