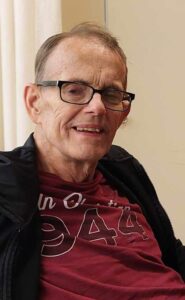 Paul Sherwood Ayars (Woody), 74, of Lincoln, passed away August 27, 2023 at Lincoln Village Healthcare.
Cremation rites have been accorded by Holland Barry & Bennett Funeral Home. A private memorial service will be held at Lincoln Christian Church on Saturday, September 9, 2023. There will be no burial at this time.
Paul was born September 4, 1948, in Grand Rapids, Michigan, the son of John Ayars and Virginia (Parmenter) Ayars. He married Cynthia Gallas on July 7, 1973 in Niles, Michigan.
Survivors include his wife Cindy Ayars: children Kimberly Ayars, Colleen Ayars, and Peter Ayars; siblings David Ayars (Patti) and Daniel Ayars (Sandy), along with five nieces and three nephews. He was preceded in death by his parents and his brother Jack Ayars (Eleanor).
Paul had a tremendous faith in Jesus and was a man of prayer. He worked various reporting jobs at newspapers in Indiana, Michigan, and Urbana, Illinois before coming to the Lincoln Courier, where he worked for 25 years. While at the Courier he reported on topics such as education, agriculture, and politics; while also coordinating the newspaper's entries to the Illinois Press Association's annual contest awards. While he covered a wide range of topics, his favorite stories to write were about the people and places of Logan County. He was a member of the Illinois Press Association and a faithful member of Lincoln Christian Church. Paul was a White Sox fan, and a lover of music (especially Christmas music), Lake Michigan, a good story, and having a good laugh. He had a genuine love for the Lord, his family, and his community.
Memorial donations may be made to either New Life for Asia Christian Ministry (PO Box 214, Normal, IL 61761) or IL Press Association Scholarship for Journalism Students (2501 Chatham Rd.,Springfield, IL 62704).