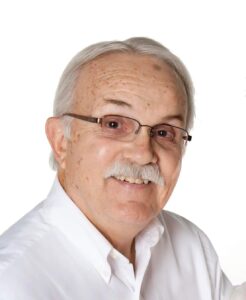 Peter Jeffrey Frantz (Pete) passed away on May 9th after a brief illness. He was 80 years old.
Cremation rites have been accorded by Holland Barry & Bennett Funeral Home. Visitation will be from 11 AM until 12 Noon Monday, May 15, 2023 at Trinity Episcopal Church in Lincoln, Illinois. Memorial services will follow at 12 Noon. Memorial donations may be made to the American Cancer Society or to Trinity Episcopal Church.
Pete was born in Lincoln, Illinois on July 15, 1942, the son of Weldon (Pete) Frantz and Jane Ellen Frantz (Warrick), and was a life-long resident of Lincoln. He graduated from Lincoln Community High School in 1960 and attended the University of Illinois, from which he received a Civil Engineering degree in 1965. He was a licensed Professional Engineer and a Registered Land Surveyor.
Pete met Carol Bruner in 1964 and they were married in 1966. He is survived by Carol and their two children, son Jeffrey (Eszter) and daughter Jennifer Sugg (Alan). He was especially proud of and doted on his two granddaughters, Audrey and Sarah. He was preceded in death by his parents and his sister, Janeann Meredith.
Pete worked for the Illinois Department of Transportation (IDOT) from the time of his graduation until he retired in 2000 as the Chief of IDOT's Environment Section. As a representative of IDOT, he was active professionally in the Transportation Research Board, serving on the Environmental Analysis in Transportation committee for several terms.
While in college, Pete worked for the Logan County Highway Department during the summers, where he met Ron Fox, with whom he would later form Logan County Land Surveying. Working on weekends, Pete and Ron surveyed multiple properties throughout Central Illinois during the 30-plus years in which they were in business.
Pete was active in the community, serving as the Exalted Ruler for the local Elks Lodge and multiple terms on the District 27 school board, including serving as school board president. He also enjoyed fishing, golf, and playing in a bridge club with a group of friends that met regularly for more than 40 years. He was also an ardent fan of Fighting Illini athletics. When traveling with friends or for business, Pete was famous for his ability to know the location of the nearest Dairy Queen.