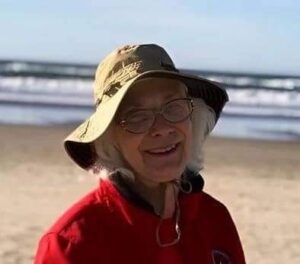 Bettie Lucele Turner passed away peacefully on April 30, 2023, surrounded by her family at the age of 91 in Corvallis, Oregon. She was born on March 21, 1932, in Armington, Illinois to Ford Greathouse and Evelyn Rae Hainline Greathouse.
Bettie grew up on a farm between Armington and Minier Illinois with her 2 younger brothers. This instilled a lifelong love of gardening, canning, and growing all things.
She graduated from high school in Minier, Illinois in 1950, and went on to Illinois State University to continue her education in music. Bettie was an accomplished pianist, playing for church her entire life, many weddings, and to the delight of her family.
Bettie married Floyd Turner in 1952 and began their family. Bettie had 6 children, all girls, 19 grandchildren, and 20 great-grandchildren when she passed. Bettie raised her family in Lincoln, Illinois until 1982 when they moved their family to Oregon.
She worked at Lincoln Memorial Hospital, Lehn & Fink, State Farm (while attending college), was a church secretary for the Jefferson Street Christian Church in Illinois and retired from the Oregon Employment Department on May 31, 1996.
Everyone who had a special connection to her, whether family, friends, or acquaintances, were touched in some way by her gentle humility, love for our Lord God & Jesus, love of nature & music, love of all kinds of people, and her infectious zest for life!
She loved to go to the beach agate hunting, annual trips to Minnesota to go fishing, enjoyed gardening, spending time with family, enjoyed birdwatching, and attending her church.
She was preceded in death by her husband, Floyd Turner, daughter Jacqueline Berger, and two siblings, Ray and Bob.
She is survived by her daughters; Barbara Hower and family, Rebecca Mullican and family, Judy Koger and family, Patricia Detmers and family, Kelly Sorensen and family, 19 grandchildren, and 20 great grandchildren.
May 20th, at Siletz Church of Christ. Viewing at 11 am, Service at 1 pm. Final service will be on May 23rd at 10 am. She will be laid to rest at the Mount Joy Cemetery in Armington, IL.