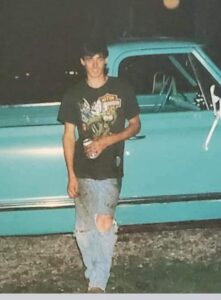 Randall "Shaun" Steffens, also affectionately known as "Randy," passed away June 8, 2022 at Abraham Lincoln Memorial Hospital.
Visitation will be from 5-7 PM Thursday, June 16, 2022 at Holland Barry & Bennett Funeral Home. Graveside services will be held at New Union Cemetery Friday, June 17, 2022 at 10 AM.
"Shaun" was born June 13, 1978 in Lincoln, the son of Randall Steffens and Laura (Hill) Lackey. A self- taught master mechanic, he owned Randy's Truck and Machinery. He was a lifelong Chevy enthusiast, but could fix anything. He was a hard worker, but would drop everything to help someone in need. In his spare time, he enjoyed listening to music or going to concerts, watching The Curse of Oak Island, and researching online interests. He was a dog lover, and has been reunited with his beloved furbaby Oscar. He was a kind, and generous soul. His humor was illustrated in his nickname of "Wabbit." He will be greatly missed by all who knew and loved him.
Survivors include his loving grandmother Betty Lou Kelly Hill; his parents Randall Steffens (Tina) and Laura Lackey (Sean); Great Uncle William (Riley) Kelly; siblings: Lisa Steffens, Amanda Steffens, Chad Steffens, Mark Mount, and Samantha Steffens; Aunt Linda Hill, Aunt Lucia Hill, Uncle Ken Nyberg, Aunt Connie Saunders, and Aunt Lorrie Hoffman; several cousins and friends also survive.
He was preceded in death by his grandfather Coach George E. Hill, Great Uncle Tom Hill, grandparents Larry and Bette Steffens, and his great grandparents.