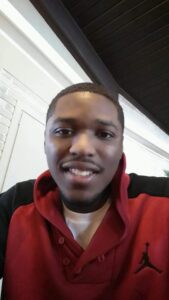 Christian Michael "Chris" Van Hook, 28, of Lincoln, passed away June 21, 2022, from injuries sustained in an automobile accident. He was born August 27, 1993, in Chicago, Illinois.
Visitation will be from 4-7 PM Thursday, June 23, 2022, at Holland Barry & Bennett Funeral Home. Funeral Services will be at 12 Noon Friday, June 24, 2022, also at the funeral home with Pastor Nick Hardy of Crossway Church officiating. Cremation rites will then be accorded.
He is described by his family as protective, having your back, caring, someone you could look up to, loyal, always there when it mattered, would never judge you, would always tell you he loved you, was a great roommate, not afraid of hard work. Chris could brighten up any room – had a great sense of humor – was the funniest guy in the room. He loved music and loved to dance. Chris loved to be active and enjoy life. He was always ready to shoot some hoops with family and friends.
Chris was a talented basketball player. After playing at Lincoln Junior High, he was a 3-year varsity player for Lincoln Community High School. He also played 2 seasons for the Peoria Irish AAU team. He then earned a scholarship to Black Hawk College East to play college basketball. He later played for the Lincoln Lions Semi Pro team. Chris also enjoyed other sports like martial arts and running track. Chris worked in the security industry.
Survivors include his parents Tom and Loretta Van Hook; siblings: Ryan (Ruth) Van Hook, Abigail Van Hook, Adair Van Hook, Joseph Van Hook, Alexis Van Hook, and Tyler Van Hook; grandparents Larry and Arlene Van Hook and Rita Schanstra as well as aunts, uncles, cousins, birth parents and birth siblings.
Chris had many dedicated coaches who invested time in him on and off the court. He had many friends that he has left behind. Chris was generous in helping others. Several times he volunteered as a referee for Special Olympics. He made a decision to be an organ and tissue donor and that decision will now enhance the lives of many people.
Faith in God was important to Chris. He made a profession of faith in the Lord Jesus as a teen.
Memorial donations may be made to the family for funeral and burial expenses or the Lincoln Railer Basketball Boosters.