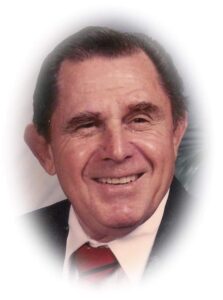 Raymond Lee Cotton, 93 of Rockaway Beach, MO, passed away at home on Friday, July 30, 2021. Visitation will be from 12:00 – 2:00 P.M. Thursday, August 5, 2021 in the Kissee-Schofield-Eakins Funeral Home. Funeral service will follow at 2:00 P.M. with Pastor Howard Kenyon officiating. Burial with full military honors will be private in Lincoln, Illinois.
Ray was born on Saturday, November 12, 1927 in Eureka, Illinois to Snowden "Doc" and Eula Mae (Jones) Cotton. Ray served in the U.S. Navy on the U.S.S. Bordelon as a Metal smith. After his service in the Navy, Ray spent his career as a plumber and owned his own business, Cotton Mechanical, in Lincoln, Illinois. Ray was a longstanding member of the VFW, Elks, 40 & 8, American Legion and was a 33rd degree Anzar Shriner.
Ray was preceded in death by his parents; first wife, Carol, and their daughter, Cheryl.
He is survived by his wife, Emogene Cotton of Rockaway Beach; daughters, Lisa Cotton of Decatur Illinois and Karen Carter of Chestnut Illinois; four step children, Ricky, Norman, Roxanne and Larry and eleven grandchildren and numerous great-grandchildren.
In lieu of flowers, donations can be made to Shriners Hospital for Children, PO Box 86375, Orlando, FL 32886 https://www.shrinershospitalsforchildren.org/shc
Local arrangements are under the direction of Holland Barry & Bennett Funeral Home.
yellowbutton]
Send Condolences
[/yellowbutton]