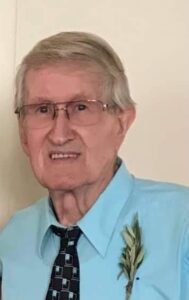 William H. "Bill" Rieman, 89, of Lincoln, passed away August 4, 2021 at home surrounded by his loving family.
Cremation rites have been accorded by Holland Barry & Bennett Funeral Home. There will be no services at this time.
William was born October 31, 1931 in Lincoln, IL., the son of Herman F. Rieman and T. Rose (Koller) Rieman. He married Donna J. Van Bibber on July 3, 1959.
Bill retired from PPG as a supervisor. He enjoyed woodworking, gardening, and music. He loved his schipperke dogs Little Bear, Katie, and Sadie. He never had a bad word to say about anyone and everyone that met Bill loved him. He and Donna enjoyed watching Swaggart Ministries together.
Survivors include his wife Donna Rieman, son Jeffery W. Rieman, daughter Pamela (Darrell) Ifft; grandchildren Jillian Monical and Gunnar Monical; step grandchildren Brittany (Caleb) Rathburn, Chelsie ( Jordan) Spisok, Trevor Ifft, and Tanner Ifft; step great grandchildren Kellen Spisok and Lillian J. Spisok; sister Jane Day; and many extended family members and friends.
He was preceded in death by his parents and his brothers Richard "Dick" Rieman and Ronald Rieman.