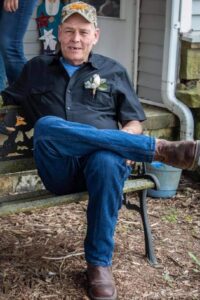 Robert L. "Bob" Flowers, 71, of Lincoln, passed away March 22, 2021 at St. John's Hospital surrounded by his loving family.
Visitation will be from 5-7 PM Monday, March 29, 2021 at Holland Barry & Bennett Funeral Home. Cremation rites to follow.
Bob was born February 7, 1950 in Paris, KY., the son of William LacyFlowers and Helen Jacoby ( Hash). He married Donna
( Deweese) Bradshaw. They were married 43 years. In the 1960's he worked for Holmes Wrecker Service in Mt. Pulaski, then Yellow Cab in Lincoln, followed by Munson Trucking and Motorcoach Restorations. He retired from Tullahoma grain.
Bob enjoyed hunting, fishing, boating, motorcycles, and drinking beer. He loved his dogs.
Survivors include his wife Donna "Red" Bradshaw; children: Sherri Kaleff ( Rick), Anita Bradshaw
( Tony Skelton), Robbie L. Flowers Jr.
( Marilee Mattson), John ( Maria) Bradshaw, Lacy Flowers, and Linda
( David) Gleason. 16 grandchildren and several great grandchildren also survive.
He was preceded in death by his parents, son Jason, and 2 sisters.
Memorial donations may be made to Holland Barry & Bennett Funeral Home to assist the family with expenses.