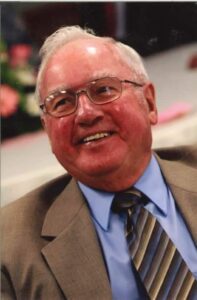 Ronald Raymond Ritchhart, 93, of Lincoln, passed away in Lincoln. On Thursday, June 22, 2023.
Funeral services for Ron will be at 11 AM, Wednesday, June 28, 2023, at Holland Barry & Bennett Funeral Home. Burial will follow in New Union Cemetery with Full Military Rites performed by the American Legion Post 263. Visitation will be from 4-7 PM Tuesday, June 27, 2023, also at the funeral home with Masonic Rites at 3:45.
Ron was born January 16, 1930, in Lincoln, IL., the son of Harold and Wilma (Shay) Ritchhart. He married Joan C. Gehlbach on June 1, 1958. She preceded him in death March 15, 2000. He is survived by two sisters, Pat Shay Lockenauer and Janet "Pete" Luckhart, and two special friends, Rhoda Holland and Martha Holland. "Uncle Ronnie" was an uncle to thirty nieces and nephews, fifty-two great nieces and nephews, sixty-three great-great nieces and nephews, and one great-great-great niece. He was preceded in death by his parents, brothers Harold Robert Ritchhart, Aaron Lee Ritchhart, Jackie Dean Ritchhart, and sisters Norma Jean Berglin and Nancy Curry Treatch.
A Lincoln resident most of his life, Ron graduated from Lincoln Community High School in 1948 and from Western Illinois University in 1957. He received a master's degree in education administration from the University of Northern Colorado. After his freshman year in college, Ron proudly served his country in the United States Navy for four years aboard the USS Midway Aircraft during the Korean War.
Mr. Ritchhart was a teacher, and football, basketball, and track coach in Naponset, Illinois and a teacher football and basketball coach, Dean of Students, and Principal of Lincoln Community High School, where he retired in 1985.
He was a member of the First Presbyterian Church in Lincoln, a lifetime member of the American Legion Post 263, the VFW post 1756, Lincoln Masonic Lodge, Scottish Rite of Springfield, Ansar Shrine of Springfield, Royal Order of Jesters, Lincoln Elks Club #914, and the Lincoln Logan County Shrine Club.
He was a founding member of the Tin Lizzie Patrol Unit for the Logan County Shrine Club, and Past President of the Illinois Secondary Principal's Association. Upon his retirement from the high school, Ron became the Recorder at the Ansar Shrine temple in Springfield. He was a former member of the Police and Fire Commission for Lincoln and the Logan County Cemetery Maintenance Board.
Ron enjoyed boating and fishing on the Illinois River, especially at Matanza Beach near Havana, Illinois and the Lake of the Ozarks in Osage Beach, Missouri. He enjoyed spending time in the winter months in Ft. Myers, Florida after his retirement from the Shrine.
Memorial donations may be made in Ron's name to the Shriner's Hospital for Crippled Children and will be accepted at the funeral home.