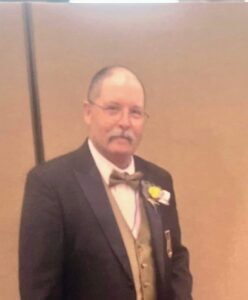 John Robert Ewins, 63, of Lincoln, passed away June 26, 2023 at his home.
Visitation will be from 5-7 PM Friday, June 30, 2023 at Holland Barry & Bennett Funeral Home. Masonic Services will begin at 4:30
Funeral services will be at 10 AM Saturday, July 1, 2023 also at the funeral home. Burial will follow in Park Lawn Cemetery, Danvers, Illinois.
John was born October 17, 1959 in Lincoln, IL., the son of James R, Ewins and Mildred "Mickey" (Freeman) Ewins. He married Deborah Parrish on September 23, 1983. John graduated from Lincoln Community High School in 1977 where he was active in National Honor Society, FFA, and wrestling. He attended Lincoln College for Criminal Justice. John retired from the Illinois Department of Corrections in 2009 after 30 years of service. Prior to his corrections work he was employed at Leo Logan's Station, Bruns Service Station, and R&H Farm Supply. John as an active member of the Greenview Masonic Lodge #653, White Shrine of Jerusalem, Past Supreme Watchman of Shepherds, Yeoman of York, Ansar Shrine, Scottish Rite, and Rainbow Grand Cross of Color.
Survivors include his wife, Deborah Ewins; his daughter Jennifer (Isaac) Sheley; four grandchildren: Addison, Rylee, Kadence, and Granger; his loyal canine companion Bo, aunt Bonnie Ewins, uncle Larry Ewins, and several nieces, nephews, cousins, and friends.
He was preceded in death by his grandparents, parents, and his son "J.R."
Memorial donations may be made to the First Baptist Church of Lincoln or to the Shriner's Hospitals for Children and will be accepted at the funeral home.