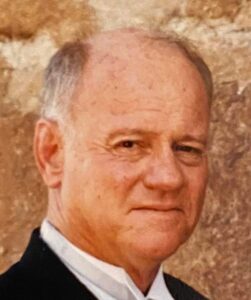 Ronald T. Long, 81, passed on Saturday, November 27, 2021, at Memorial Hospital with his family by his side.
Ronald (also known as "Butch") was born August 16, 1940, in Lincoln, Illinois, the son of Theodore Roosevelt Long and Phyllis (Hodshire) Long. He married Marilyn Stoll on December 29, 1962, in Lincoln, Illinois at St. Patrick's Church.
He grew up farming in New Holland, Illinois. Ronald spent his early years hunting, fishing and trapping in and around his family farm. He loved telling stories of the tricks, pranks and practical jokes he orchestrated on his father, uncles, brothers and friends. He also loved telling stories of his pets, including a bull named Henry and bulldog that he taught to smoke a pipe.
He enlisted in the United States Marine Corp in the Spring of 1962 and served until September of 1966. As a marine, he traveled the world and lived in Okinawa, Japan, Guantanamo Bay, Cuba, and Subic Bay, Philippines.
After marrying Marilyn, they temporarily lived in South Carolina and California. They initially settled in Lincoln, Illinois and later moved to Springfield, Illinois. After settling in Springfield, their family grew and grew and grew.
Ronald was a retired welder for Caterpillar (after 30 plus years) and was also a retired member of United Auto Workers Local 751. In retirement, Ronald spent his time hunting and fishing in Mason County. He was known to modify or "fix" every gun, fishing rod and reel, or equipment to work best for him. He was always in search of and trying to make the next best fishing lure. He enjoyed spending time outdoors, watching wildlife, fishing, hunting, reading, and spending time with his family.
Ronald is preceded in death by his parents, his brother, Bill, his sons, Michael Theodore Long and Joseph J. Long, and his grandson, Aaron J. Long.
Ronald is survived by his wife, Marilyn (Stoll) Long of Springfield; his daughters, Cathy Barry of Springfield, Karen (husband, Derek) Needham of Springfield, Theresa (husband, Andy) Lambert of Springfield, Christine (husband, John) Warrington of Springfield, and Susan (husband, Jeron) Schultz of Springfield; his sons, Michael Long of Springfield, Jeff Long of Beardstown, and John (wife, Tara) Long of Springfield; his grandchildren, Kari, Luke, Tyler, Anthony, Kyle, Brandon, Grace, Hannah, Caroline, Kate, Jane, Zane, Madeline, Evan, Olive, Ames, Whitney, Wade, Lennon, Norah, and Harrison; and his brother Jim (wife, Brenda) Long.
The family wishes to thank Jennifer Miller of Springfield for her love, care, support of Ronald.
Private family ceremonies will be held.
The family is being served by Holland Barry & Bennett, Lincoln, Illinois.
Memorial contributions may be made to HSHS St. John's Hospital or a charity of the donor's choice.