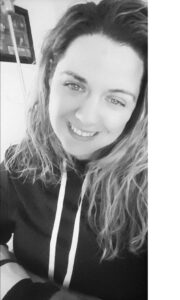 Kristen A. Carroll, 40, of Lincoln, passed away December 2, 2021 in Lincoln, IL.
Visitation will be from 5-7 PM Friday, December 10, 2021 at Holland Barry & Bennett Funeral Home.
Kristen was born October 9, 1981 in Oak Lawn, IL. , the daughter of Anna (Seybold) Carroll. She graduated from LCHS class of 1999. She worked for Kroger in management for several years.
Kristen was an avid Chicago Bears fan. She enjoyed drinking margaritas and spending time with her family and friends. She loved to spoil her nieces and nephews. She was a hard worker and she had a big heart.
Survivors include her mother Anna Carroll; siblings: Bryan (Kristy) Carroll, Dan (Jody) Carroll, Kevin (Bethany) Carroll, and Jenny (Will) Clutter; nieces and nephews: Austin, Nick, Brady, Griffin, Sophia, Ashlyn, Ty, Lakken, Brooklyn (Cole), Haidyn (Aundrea), Emily, David, Urijah, Cleo, Liliana, Talen, Reid, Knox, and Oliver; aunt Susie (Dean) Morrell, and aunt Kathy Seybold.
She was preceded in death by her grandparents, her brother and sister in law David and Nikki Carroll, infant nephew Carter, and Uncle Al.
Memorial donations may be made to the family in care of Bryan Carroll to assist with medical and funeral costs.