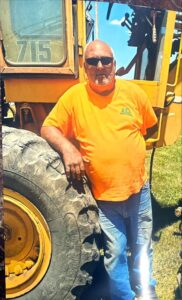 Ronald W. Robertson "Ronnie", 79, of Lincoln, passed away April 12, 2023.
Visitation will be from 10 AM until 12 Noon Saturday, April 22, 2023, at Holland Barry & Bennett Funeral Home. Funeral services will follow at 12 Noon with Pastor Michael Mallick officiating. Burial will follow in New Union Cemetery, Lincoln.
Ronnie was born January 8, 1944, in Lincoln, IL., the son of Ronald Wayne Robertson and Alice (Zack) Robertson. He married Patricia Ann "Patty" Huskins on March 28, 1987. She preceded him in death on May 9, 2016.
He worked for the Mason City Police Department, Spoon River Ambulance, Robertson Garbage Business, D&D Complete Sewer Service, SK Davison Trucking, Mason City Fire Department, Caterpillar, and Alice Chalmers.
He was a jack of all trades and a hard worker. Ronnie was stubborn and set in his ways but would do anything to help someone. He was a member of the Eagles Lodge 2708 and a proud supporter of Lincoln Speedway. He worked with Track Enterprises group since 2016 and with Jim Horn prior to that.
Survivors include his children: Ronda Robertson, Joleen (Shane) Lowe, Mike (Sandy) Robertson, and Billy (Rose) Robertson; stepchildren include Linda Helton Brown, Patricia "Sis" (Don) Fulmer, Annie Helton, Kim Hall (Ronnie Allie), and Loren "L.T." Helton; companion Mary Osborn; Several grandchildren, great grandchildren, and great-great-grandchildren also survive.
He was preceded in death by his parents, wife, a granddaughter and a grandson.
Memorial donations may be made to the American Diabetes Foundation and will be accepted at the funeral home.