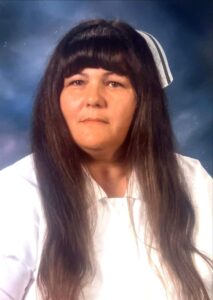 Sheila Ann Bradburn, 62, of Lincoln, passed away January 31, 2023, at OSF St. Francis Medical Center in Peoria.
The family would like to thank the community for all of their thoughts and prayers during Sheila's hospital stay.
Visitation will be from 10 AM until 12 Noon Monday, February 6, 2023, at Holland Barry & Bennett Funeral Home. Funeral Services will follow at 12 Noon with Pastor Darren Palmer officiating. Burial will be in New Union Cemetery, Lincoln.
Sheila was born June 24, 1960, in Hartsburg, IL., the daughter of Ernie and Ruth Ann (Skelton) Hoffert. She married Jim Bradburn April 7, 1978.
She was a nurse and mental health technician at Lincoln Developmental Center, a school bus driver, and worked in early childhood. She was very involved with the food distribution at Faith Church. Sheila loved the outdoors, camping, and fishing. She loved to cook and bake and teach her grandchildren how to be industrious. She loved her animals, there's not a stray creature that Sheila wouldn't care for. She was a natural caregiver, caring for and nursing everyone she knew. She was very family oriented. Her children and her grandchildren were her greatest joy. Sheila's gentle caring nature and her warm smile will be missed by all who knew and loved her.
Survivors include her father Ernie Hoffert, her loving husband Jim Bradburn, her children: Jason (Amanda) Bradburn, Chris Bradburn, Nicki Jackson, and JJ Bradburn; her grandchildren: Brandon, Krissa, Alaina, Jasey, Jozalynn, Caleb, Chelsey, Caitlin, Ashlan, Bryson, Cyleigh, Cadence, and Kolton; her great grandchildren: Isaac, Kynlee, Willow, Olivia, Wyatt, and Raylynn; her brother Brian Hoffert. Many extended family members and friends also survive.
She was preceded in death by her mother, Ruth Ann Hoffert and her mother-in-law Myna Bradburn.
In lieu of flowers, memorial donations may be made to the Acute Lymphocytic Leukemia Foundation and will be accepted at the funeral home.