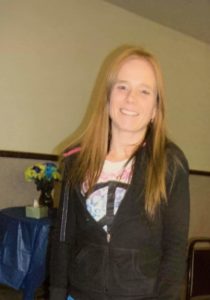 Theresa Ann Skelton, 39, of Lincoln, passed away April 28, 2019 at her home.
Visitation will be from 5-7 PM Wednesday, May 1, 2019 at Holland Barry & Bennett Funeral Home. Funeral services will follow at 7PM with Pastor Ron Otto officiating. Cremation rites to follow. There will be no burial at this time.
Theresa was born October 3, 1979 in Springfield, IL., the daughter of Kevin Skelton and Doris Kirby. She loved art and music, drawing and coloring. Theresa would often decorate her fingernails with artwork. She loved to be outdoors and her favorite past time was working crossword puzzles.
Surviving are her parents Kevin (Donna) Skelton, Doris (Curtis) Kirby; daughter Alexis Skelton; sisters Kristine (Mike) Bryson, Mindy (Fred) Skelton, and Samantha Skelton; nieces and nephews: Tyler (Heather), Drew, Bryson, Cierra, Jacob, Aaron, and Harper;grandparents Linda Kirby, Charles Kirby, and Donald Ware; aunts and uncles: Gary (Glenda) Skelton and their children Amanda, Shelli, and Chris, Vickie (Dan) Bree and children Brittney, Brooke, Brandy, and Heather, Connie (Steve) Sampson and son Dustin, the late Kim Taylor and children Justin and Ashleigh, Terry (Cheri) Skelton and children Shannon, Missy, and Amber, Cathy (Mike) Burgess and children Mikey, Kimmy, Tasha, Kiri, and Jay, Charmin Kirby and daughter Brittany ,Charles Kirby and children Jeremiah, Jonathan, and James, and Chandler (Roberta) Kirby and son Austin.
She was preceded in death by her grandparents Jackie Ware, Joseph Skelton, and Mabel Skelton, aunt Kim Taylor, and nephew Kameron.
Memorial donations may be made to the family in care of Kevin Skelton and will be accepted at the funeral home.