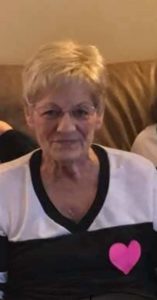 Gitana Kay Howard, 75, of Lincoln passed away April 29, 2019 at Memorial Medical Center, Springfield.
Visitation will be from 10-11 AM Friday, May 3, 2019 at Holland Barry & Bennett Funeral Home with funeral services following at 11AM. Burial will be in Atlanta Ladies Cemetery.
"Kay" retired from Lincoln Correctional and was also employed as a waitress at Daphne's for several years. She cherished being a grandma and made special memories with her grandchildren and great grandchildren.
Surviving are her mother Gitana S. Bennett; son Brett M Rawlins; grandchildren: Cory (Christa) Rawlins, Cody ( Emily) Koke, Chad ( Heather) Koke, Chase ( Amber) Koke, Jessie Rawlins, Jennifer ( Matthew) McGraw, Race Rawlins, Alix Rawlins, BrettBradley Rawlins, and Daytona Rawlins; great grandchildren: Avery, Addison, Jarrett, Jade, Carter, Gabby, Gabriel, Matthew, Carly, Clyde, and Charlie; and siblings: Carla Phillips, Cynthia (Neil) Clark, and Jay (Marla) Bennett; several nieces, nephews, cousins, and friends also survive.
She was preceded in death by her father, her daughter Rhonda Rawlins Hildebrandt, and brother Robert Sexton.
Memorial donations may be made to the American Cancer Society and will be accepted at the funeral home.