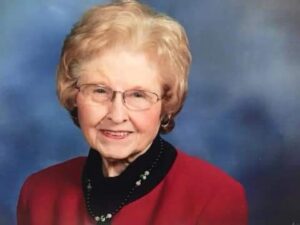 Veva Mae Appel 1923-2021
Veva Mae (Crooks) Appel of Lincoln was gathered into the arms of Jesus her Savior on Sunday, June 27, 2021 at Abraham Lincoln Memorial Hospital in Lincoln. Veva was an extraordinary woman, follower of Jesus, wife, mother, grandmother, and great-grandmother. She lived a full life possessed by unwavering faith and uncommon love. It's fitting that it was on a Sunday, her favorite day of the week and the day of resurrection.
Veva was born February 6, 1923 in Sutherland, Iowa, the daughter of Walter and Cora (Harkness) Crooks. She graduated from Sutherland High School and went on to college in Minneapolis at Minnesota Bible College. It was here that she met the love of her life Leon Howard Appel. Leon and Veva were married by their college Dean G.H. Cachairus in the college Chapel on Dec. 22, 1942.
Just out of college, Leon and Veva pastored the Christian Church at Sheldon, Wisconsin. Their daughter Gloria was born there.
Next they were called to pastor the Christian Church at Toluca, IL where they also ministered to several local churches that did not have a preacher at the time. Daughter Glenda was born to them while at Toluca.
In 1950, the Appel Family was called to Lincoln, IL to minister to Lincoln Christian Church. Veva partnered again with her husband and they made a great team. Veva taught 3 different Adult Sunday School Classes for a total of about 55 years. Four more Appel children were born during this time: Gail, Mike, Gregg and Gene.
In the summer of 1970, Leon Appel was called to be Vice President of Lincoln Christian College, now Lincoln Christian University, with Veva at his side. Later in 1973, Leon became the President of the College with Veva fulfilling many roles as the President's wife.
Veva worked as typist in the Training Department of Lincoln Developmental Center for a couple of years starting in 1970. From there she went to work in the Office of Christian Homes, Inc. After two years with Christian Homes she accepted a new position in the Development Department. In that role she travelled many states fund raising for the organization and holding seminars and speaking engagements.
In 1980, Veva became the Director of Development for her Alma Mater, Minnesota Bible College which had moved from Minneapolis to Rochester, MN. She worked in this capacity for a few years and endeared herself to the student body as well as the people she served in this capacity. In addition, her home was opened to scores of people who came to Mayo Clinic for treatment and needed a place to stay.
After a serious illness, Veva returned to Illinois to be closer to family and once again began working for Christian Homes in the area of Development She held this position until her retirement.
Veva was loved by all who knew her. Her many gifts included hospitality and the ability to stretch a meal created for a family of 8 to feed a group of 16 without anyone suspecting that wasn't her intention (Leon always brought others home for dinner). Her Bible was her most precious book, and she was in her Bible every day. Veva was a prayer warrior as her many prayer journals reflect. As the family goes through these books, distributed pages to those who were covered in prayer will be a blessing once again to those who were so diligently prayed for by this woman.
2 / 2
Veva was preceded in death by her husband Leon Howard Appel in 1974, parents Walter and Cora Crooks, brother Duane Crooks, sister Jane Crooks D'Aoust, daughter Gloria Appel Fry, Son-in Laws Timothy Fry and Norm Clark, and Grandson Brian Clark.
She is survived by Children: Glenda Appel Allison (Jim), Gail Appel Clark Guzzardo (John), Michael Wayne Appel (Diana), Gregg Howard Appel (Charlotte), and Gene Brian Appel (Barbara), and Sister-in-Law Evelyn York. Grandchildren: Natalie Fry Bajandas, Katie Fry King, Brady Fry, Zachary Fry, Lisa Allison Mestinsek, John Allison, Krista Clark McBeath, Nichole Appel Cole, Clint Appel, Jeffrey Appel, Ryan Appel, Ben Appel, Jeremy Cowen, Alayna Appel Towne, and Jenna Appel Enns, and 26 Great Grandchildren, along with many nieces and nephews.
Services for Veva will be Wednesday June 30 at 11:00 a.m. at Lincoln Christian Church. Visitation will be from 9:30 to 10:50 before the service. Funeral services have been entrusted to Holland, Barry & Bennett Funeral Home.
Memorials may be made to the "Appel Scholarship Fund" at Lincoln Christian Church, 214 McClean St. Lincoln, IL 62656.