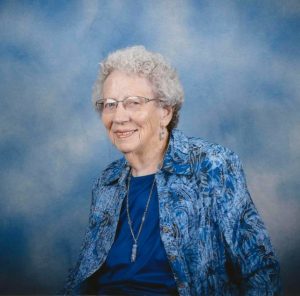 Betty Lou (Keim) Isham, 86, of Monohans, TX., formerly of Lincoln, passed away Sunday, March 8, 2020 at Covenant Health, Lubbock, TX.
Visitation will be from 10 AM until 11 AM Tuesday, March 17, 2020 at Holland Barry & Bennett Funeral Home. Graveside services will follow in Lucas Chapel Cemetery.
Betty was born May 15, 1933 in Middletown, IL., the daughter of Harley and Myrtle (Walker) Keim. She married George W. Isham on April 21, 1961. He preceded her in death.
Betty worked as a Registered Nurse for many years, retiring from Lincoln Developmental Center in 1993 after 33 years of service there. She received her B.S. degree at Millikin University in 1963. She was the Lincoln Developmental Center Administrator for 16 years, and also worked as the training coordinator for the facility. She was also formerly employed at Abraham Lincoln Memorial Hospital. She was a member of Lincoln Christian Church where she was involved in Jolly Seniors and was a member of the Beacon Sunday School Class.
Surviving are her daughter Denise Hicks of Monohans, TX., and son Roger Isham of South Elgin, IL; grandchildren: Michael Hicks, Ashley (Anthony) Ceballos, Danica (Julian) Hernandez, Haylie Hicks, Taylor Isham, Austin Isham, and Emma Li Isham and 6 Great Grand children.
She was preceded in death by her parents, husband, sisters Dorothy E. Pickett and Ruby Payne, and brother William Keim and grandchildren – Andrew Isham and Grace Isham
Memorial donations may be made to Lincoln Christian Church and will be accepted at the funeral home.