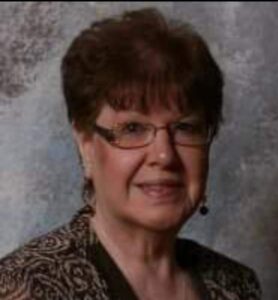 Betty Louise Goodman, 72, of Pekin, formerly of Chestnut, passed away December 19, 2020 at home surrounded by her family.
A private family viewing will be held at Holland Barry & Bennett Funeral Home. Graveside services will be at 12 Noon, Tuesday, December 29, 2020 at Laenna Cemetery, Chestnut. Due to Covid-19, please practice social distancing and wear proper facial coverings.
Betty was born May 14, 1948 in Lincoln, IL., the daughter of Harold and Helen (Schafer) Opperman. She graduated from Mt. Pulaski High School. She was once a member of the Jr. Women's club, the Logan County Home Extension, and was a member of the Mt. Pulaski Bowling Team. She retired from Decatur Memorial Hospital as a LPN on the medical/surgical floor. She also drove a school bus for a short time and was the owner/operator of Betty's Cafe in Chestnut. Betty enjoyed playing mystery games on her computer, watching murder mystery shows, shopping, having lunch with friends, and being with her family. She was an avid dog lover and had several canine companions throughout her life.
Survivors include her daughter Melissa (Ricky) Beals, son Dennis Goodman, grandchildren: Amber, Marcel, Balin, Caleb, and Dylan; and great grandchildren Oliver and June. Several extended family members and friends also survive.
She was preceded in death by her parents, granddaughter Katerina, and brother Allen Opperman.
Memorial donations may be made to the family in care of Melissa Beals and will be accepted at the funeral home.