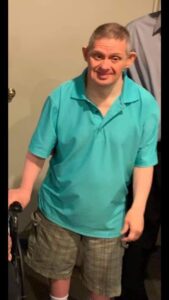 Forest H. Rice, 61, of Lincoln passed away peacefully at his home on September 20, 2021.
Graveside services will be held at 10:00 AM Saturday, September 25, 2021 at Bluegrass Cemetery, Lawndale. Holland Barry & Bennett Funeral Home has been entrusted with his care.
Forest was born October 10, 1959 in Lincoln, IL., the son of James C. Rice and Lita ( Beeler) Rice.
He graduated from Lincoln Community High School. He loved westerns, especially John Wayne movies. He was affectionately known as
" Turkey" by his friends.
Survivors include his friends and caregivers Mark and Yvonne Cheek; their children Chad Cheek and Josh ( Sheli) Cheek, and his little buddy Tanner Cheek. He is also survived by siblings James, Merle, Wanda, Shelly, and Kelley.
He was preceded in death by his parents and siblings: Sandra, Barbara, Michael, Gerry, Mary Ellen, Sydney, and Harry.