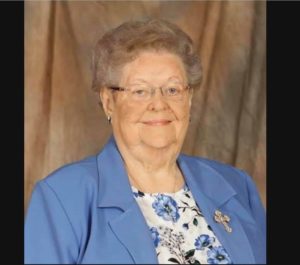 Darlene J. Mangold, 83, of Lincoln, passed away October 10, 2019 at St. John's Hospital.
Visitation will be from 9 Am until 11 AM Tuesday, October 15, 2019 at Immanuel Lutheran Church. Funeral services will follow at 11 AM. Burial will be in Hartsburg Union Cemetery. Holland Barry & Bennett Funeral Home is handling arrangements.
Darlene was born July 2, 1936 in Prairie Creek Township, the daughter of Walter and Jennie (Lolling) Tholen. She married W. Edward Mangold on February 16, 1958. He preceded her in death on January 31, 2005.
Darlene was employed at Lehn and Fink for 35 years. She was a member of Immanuel Lutheran Church. She enjoyed cooking and baking.
Survivors include: her daughter Cynthia Mangold; sister in law Beverly (John) Myers, brother in law James (Cheryl) Mangold, brother in law Wayne Mangold, and extended family.
She was preceded in death by her parents and her husband.
Memorial donations may be made to Immanuel Lutheran Church.