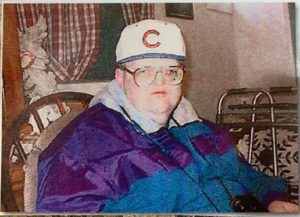 Mark Edward Donath, 59, of Lincoln, passed away at 10:00 PM on Sunday, October 13, 2019 at Abraham Lincoln Memorial Hospital.
Visitation will be from 5-7 PM Wednesday, October 16, 2019 at Holland Barry & Bennett Funeral Home with a Rosary service at 5:00.
Funeral Mass will be held at 10:30 AM on Thursday, October 17, 2019 at Holy Family Catholic Church. Burial will follow in St Mary's Cemetery.
Mark was born May 23, 1960 in Lincoln, the son of Paul L. and Dora Jean ( Palmer) Donath.
He graduated from the Special Education Program at Lincoln Community High School in 1981 and attended Logan Mason Rehab Center for over 35 years.
Mark was an avid Cubs fan. He enjoyed watching ballgames, listening to music, and attending church services. He was a member of Holy Family Catholic Church.
Mark will mostly be remembered for his "chatty" personality and being the "unofficial door greeter" at St. Clara's Manor where he resided for many years.
Mark is survived by his 8 siblings: Donna
( Lee) Burr of Lincoln, Cathy (Bruce) Oswald of Palatine, Terri ( Rick) Culleton of Buffalo Grove, Mary ( Brian) O'Hara of Lincoln, Mona ( Mark) Lewis of Litchfield, Paul "Tim" Donath of Lincoln, Tom ( Lisa) Donath of Mt. Pulaski, and Matt ( Holly) Donath of Waterloo. He is also survived by numerous nieces and nephews.
He was preceded in death by his parents, brother in law Dan Goetsch, and niece Andrea Donath.
Memorial donations may be made to Holy Family Catholic Church and will be accepted at the funeral home.