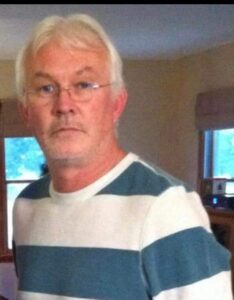 Dwayne Junior Foley, 64, of Lincoln, passed away June 7, 2022 at his residence.
Visitation will be from 11 AM until 1 PM Saturday, June 11, 2022 at Holland Barry & Bennett Funeral Home. Funeral services will follow at 1 PM with Pastor Larry Crawford officiating. Cremation rites will then be accorded and burial will take place at a later date in Camp Butler National Cemetery.
Dwayne was born June 8, 1957, the son of Virgil and Geneva (Foley) Douglas. He married Ruby Nicholas. She survives. He was a 1975 graduate of LCHS. He proudly served his country in the United States Army as well as the Army Reserves for several years. Dwayne retired from the Illinois Secretary of State and Logan County Animal Control. His grandchildren were his greatest joy and his dogs came in a very close second.
Survivors include his mother Geneva Douglas; wife Ruby Nicholas-Foley, daughters Tiffany Newell and Brittany Graveman (Paul), step children Brittany Shadden (Jason) and Raymond Nicholas; grandchildren: Shyann Foley, Carson Newell, Paisley Newell, and Taylor Newell; step grandchildren: Rayonna Shadden and Jayson Shadden; siblings Sherry Schonauer (John) and Victor Douglas; his beloved dogs Rudy and Suzie, and several other family members and friends.
He was preceded in death by his father and his son Timothy Foley.
Memorial donations may be made to Holland Barry & Bennett Funeral Home to assist the family with expenses.