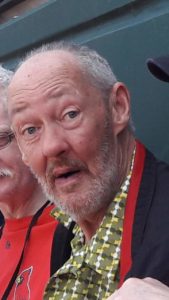 Gary Lee Eeten, 67, of Lincoln, formerly of Hartsburg, passed away June 8, 2019 at The Christian Village.
Visitation will be from 10-11 AM Wednesday, June 12, 2019 at St. John's Lutheran Church, Hartsburg with funeral services following at 11 AM. Burial will follow in Hartsburg Union Cemetery. Holland Barry & Bennett Funeral Home is assisting the family.
Gary was born May 19, 1952 in Lincoln, IL., the son of Elmer and Anna (Lolling) Eeten. He was a member of St. John's Lutheran Church in Hartsburg, mowed the Hartsburg cemetery for 24 years, and grew up in Hartsburg. He was an avid St. Louis Cardinals and Illini fan. He enjoyed music and was formerly an organist at his church.
Surviving are his siblings: Lori (Craig) Lessen of Emden, Larry Eeten of Peoria, and Dale (Erin) Eeten of Hartsburg; niece Alissa (Eli) Klokkenga; nephews: Daniel (Brianna) Eeten, Gabe Eeten, Brenton (Jessica) Eeten, Brock (Jen) Lessen, and Nolan Lessen; several great nieces and nephews; also survived by cousins, friends, and extended family at Lincoln Terrace Group Home.
He was preceded in death by his parents.
Memorial donations may be made to Community Living Options dba Lincoln Terrace.