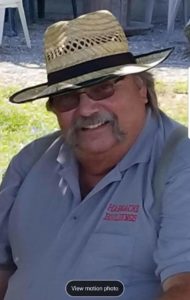 Kenneth Wayne "Kenny" Harnacke, 65, of New Holland, passed away June 10, 2019 at Memorial Medical Center.
Visitation will be from 11 AM until 1 PM Saturday, June 15, 2019 at Holland Barry & Bennett Funeral Home. Funeral services will follow at 1 PM with Pastor Steve Blaum officiating. Burial will follow in Richmond Grove Cemetery, New Holland.
Kenny was born February 17, 1954 in Lincoln, IL., the son of Harold and Wilma (Towles) Harnacke. He married Carla Biedenharn on September 29, 1974 in Mason City, IL. He was a member of the First Cumberland Presbyterian Church, Lincoln. He was the owner of Harnacke Buildings and was a talented carpenter. He also enjoyed woodworking and had his own craft shop, the Country Peddler. He was a proud member of the Antique Tractor and Small Engine Club. Kenny was the organizer and host of the July Tractor Drive and the Memorial Tractor Show. He was also the organizer of the New Holland Christmas Parade. He enjoyed tractor shows, collecting tractors, and spoiling his grandson and grand dogs.
Surviving are his wife Carla Harnacke of New Holland, IL.; daughters Melanie Harnacke of Romeoville, IL. and Amanda (David) Grey of Atlanta, IL.; grandson Ryne Grey also of Atlanta, IL.; sister Ladonna (Earl) Gass of Emden, IL., brothers Alan (Linda) Harnacke of Elkhorn, WI. and Quint (Linda) Harnacke of New Holland, IL.; several nieces, nephews, cousins, and friends also survive.
He was preceded in death by his parents and his brother Jerry Harnacke.