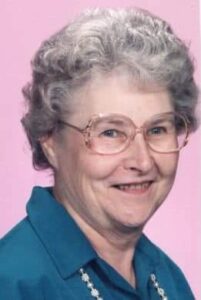 Gladys Pearl Steinhour, 94, of Okemos, MI., formerly of Middletown, IL., passed away January 13, 2022, at Bickford of Okemos.
Graveside services will be held Friday, January 21, 2022, at 11 AM at Irish Grove Cemetery, Middletown, IL. with pastor Adam Quine officiating. Holland Barry & Bennett Funeral Home has been entrusted with her care.
Gladys was born August 2, 1927, in Poplar City, IL., the daughter of Grover Cleveland Liesman and Pearl Lena (Sanders). She graduated High School in Middletown and then worked packing rations for soldiers in WW II. She married Raymond Steinhour in December of 1946. They farmed alongside family and enjoyed more than 50 years together. Gladys ran their farmhouse with love, pride, and lots of home baked pies. She enjoyed sewing, crafting, flower gardening, and travel.
Survivors include her son Wayne (Sarah) Steinhour of Mason, MI., granddaughter Ruth Steinhour (fiance Matt) of Berea, OH., granddaughter Elizabeth Steinhour of Alexandria, VA., daughter-in- law Phyllis Steinhour of Oklahoma City, OK., grandson Michael Steinhour of Rensselaer, IN, grandson Mark (Chris) Steinhour of Newcastle, OK., great grandchildren: Caidence Steinhour, Katlyn Steinhour, Aiden Steinhour, and Evan Steinhour all of Newcastle, OK., and sister Lois Stuart of Perry, MO.
She was preceded in death by her parents, husband, son Terry Steinhour, and siblings: Alvin Liesman, Paul Liesman, Fern Marshall, Wesley Liesman, Grover Liesman, Dorothy Talkington, Doris McMorris, and Robert Liesman.
Memorial donations may be made to the Cure Alzheimer's Fund
34 Washington Street, Suite 310
Wellesley Hills, MA 02481
https://www.forevermissed.com/gladys-pearl-steinhour/about