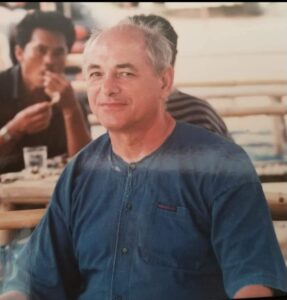 James Logue Riddle, 82, of Lincoln, passed away Monday, April 4, 2022, at his home.
Cremation rites have been accorded by holland Barry & Bennett Funeral Home. Private family services will be held Friday, April 15, 2022.
James was born Match 6, 1940, in Peoria, IL., the son of Lester Riddle and Sara (Logue).
Survivors include his wife Prayat (Deeburi) Riddle; his children: Ruth Ann Riddle, James L. Riddle, Susanna H Riddle, Rachel Leonie, Timothy T. Riddle, and Jonathan G. Riddle; his step-children: Amos Hodge, Jacqueling Hodge, and Leann Oquendo (Rascio); grandchildren: Tiffany Gibons, Sandrina Riddle, Karissa Riddle, Mahala Riddle, James L. Riddle, Jordan Riddle, Ariana Riddle, Justice Leonie Riddle, Ciara Riddle, Corey Hodge, Noah Riddle, William Buggs Jr., and Summer Corbin; brother Lester Riddle Jr. (Celeste) and sister Beth Wiegand (Kenneth, dec.); nephews: Paul Riddle (Cathy), John Riddle (Melissa), Doug Wiegand (Amy), and Tome Wiegand; niece Amy Harris (Heath, dec.); other family members and friends also survive.
He was preceded in death by his parents.