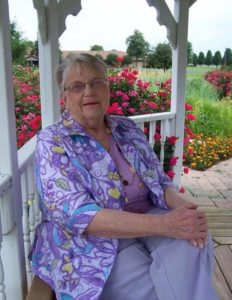 Nelda Eileen Seefeldt, 84, of Lincoln, passed peacefully into Glory on June 14, 2019.
Visitation will be from 10 AM until 12 Noon Saturday, June 22, 2019 at Holland Barry & Bennett Funeral Home. Services will follow at 12 Noon. Burial will follow services in Hartsburg Union Cemetery.
Nelda was born July 14, 1934 in Lincoln, IL., the daughter of Jacob B. Buss and Vera M. (Ritchhart). She married Kenneth Wayne Seefeldt on March 20, 1955. He preceded her in death on November 19, 2010.
Nelda was a long time member of Lincoln Christian Church where she served on the steering committee, was a member of the Beacon Sunday School Class, and was active in the Harvest of Talents. She was also a former member of the May Fair Unit of Home Extension, Teamsters Local 316 and retired from Lehn and Fink after 43 years of service. She was a talented baker, seamstress, and gardener. Her generous spirit, warm smile, loving embrace, and Christian influence will be missed by all who knew and loved her.
Surviving are her daughters: Susan (Thomas) Boyd, Cheryl LaMar, and Anna (Steve) Connor; granddaughters: Dena Boyd and Lucy LaMar; step grandchildren: Rich Boyd and Elly Boyd; and several nieces, nephews, cousins, and friends.
She was preceded in death by her parents, husband Kenny, son in law Brad LaMar, siblings: Ernest Buss, Mildred Smith, Marion Buss, and Walter Buss; and grandson Evan Connor.
Memorial donations may be made to IDES (International Disaster Emergency Service) for purchase of a sewing machine.