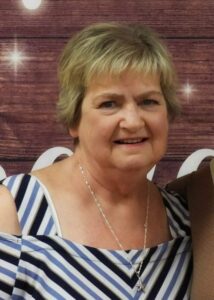 Patricia Ann Turner, 70, of Lincoln, passed away February 11, 2022, at Memorial Medical Center, Springfield.
Visitation will be from 4-6 PM Thursday, February 17, 2022, at Holland Barry & Bennett Funeral Home. Cremation rites will then be accorded. There will be no burial at this time.
Patricia was born November 14, 1951, in Danville, IL., the daughter of Marvin H. Wellman and Nina J. (Hise). She married Larry V. Turner on August 9, 1975. He preceded her in death on December 11, 2019.
Patricia was a Wal-Mart associate for more than 30 years. She enjoyed puzzles, crafts, decorating candles, shopping, spending time with her children and grandchildren, coffee with the girls at McDonalds, reading, and she loved the beach, especially Myrtle Beach.
Surviving is her children: Mindy Turner Coffey (Michael), Michael Turner (Jennifer Stout); special niece Jennifer Towell (Lori Boller); grandchildren: Hayley, Alexis, Ethan, Zakkary, Elliana, Gabby, and Jamie; great grandson Thomas; special friend John Sykes; siblings: Marvida Wellman, Marvin Duane Wellman (Diane), and Penny Sue Goble (Tim); and several nieces, nephews, cousins, and friends.
She was preceded in death by her parents and her husband.
Memorial donations may be made to the American Diabetes Association or to the Donor's Choice.