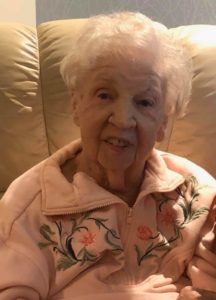 Ruth Marie Werkman, 95, of Lincoln, passed away April 19, 2020 at Martin Health Center, Bloomington.
Private family services will be held. Holland Barry & Bennett Funeral Home is assisting the family. Due to the Covid 19 restrictions in force, a celebration of life will be held at a later date.
Ruth was born January 11, 1925 in Elkhart, IL., the daughter of Eugene and Nancy (Merritt) Pankey. She married Marvin "Fritz" Werkman on August 31, 1947. Ruth was employed at Stetson's China Factory and then at Eaton/Cutler Hammer for several years. She enjoyed gardening and flowers, golf, traveling with family, and sharing her love with her grandchildren and great grandchildren. She was a very loving and compassionate woman. She will be missed by all who knew and loved her.
Surviving are her husband Marvin "Fritz" Werkman; son Paul (Nadine) Werkman; grandchildren: Tandrea (Brian) Allison and Benjamin (Christina) Werkman; great grandchildren: Madison, Michael, Mason, and Miles Werkman and Samara Allison. Sisters Gladys Guinn and Nancy Pankey also survive along with nieces, nehews, cousins, and friends.
She was preceded in death by her parents, 7 brothers and sisters, and sister in law Ruth E. Werkman.
Memorial donations may be made to the Elks Crippled Children's Fund or to Martin Health Center.